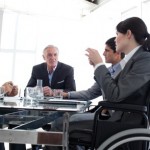 We help employers who understand that following California's employment laws is good for business and helps avoid unnecessary liabilities. Our firm's employment practices audit helps employers stay in compliance with California's anti-disability discrimination rules.
Employers cannot discriminate based on disability. With disability law an employer has affirmative obligations beyond simply not discriminating. The employer must go through an "interactive process" with an employee who is requesting an accommodation due to a covered disability. Employers should not automatically take the position that they cannot accommodate an employees request for a workplace modification.
The Americans with Disabilities Act (ADA) applies only to employers with fifteen or more employees. However California's Fair Employment and Housing Act (FEHA) also prevents discrimination based on a physical disability. FEHA applies to employers with five or more employees. Under California FEHA an employer has a duty to engage in a timely, good faith, interactive process to determine effective reasonable accommodations for a person with a known disability. Further, the employer's obligation extends to employees who do not have an actual disability, but are regarded as disabled.
If an employee has a disability, California employers must provide a reasonable accommodation, to allow a person to perform the essential functions of their job, as long as it does not cause an undue hardship to the employer. Before an employer addresses these rules, they must start by engaging in an interactive dialog with the employee to see if they have a covered disability.
A covered disability is defined as a physical or mental disability that limits one or more major life activities on a long term basis or the disability "makes the achievement of a major life activity difficult." Further, if a person does not have a disability currently, but they have a prior history of having a disability, and an employer discriminates on the basis of this perception, the law protects the person. Anyone who is treated or "regarded as" having a disability is covered.
California case law imposes a very broad requirement on employers to search for other vacant positions within their entire organizations if they have determined they cannot reasonably accommodate a disabled employee in his or her prior position. For a multi-state employer, this means checking all other operations for a vacant position, or establishing that during the interactive process the employee was only willing to re-locate within a limited radius. This California rule contrasts with the more lenient federal rule requiring generally that an employer only demonstrate that it "engaged in a good faith effort to identify a position." This obligation relates to California FEHA's Duty to Engage in an Interactive Process.