Jessica Juarez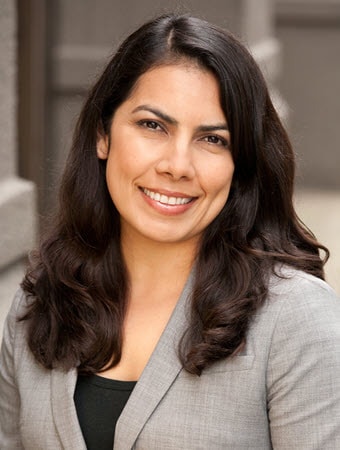 Ms. Juarez focuses her practice on representing children and their families who have suffered serious and/or catastrophic personal injury and employees in all areas of employment law, representing employees in wage and hour, discrimination, misclassification, retaliation, whistleblowing and wrongful termination cases.
Jessica also handles children's catastrophic personal injury cases.
She has litigated and successfully settled numerous employment and personal injury cases. Significant awards she has obtained for her clients include:
$1.49 million

for female Battalion Chief who was retaliated against after filing her first lawsuit (co-counsel R. Michael Flynn, Flynn Law Office);

$5.5 million

for a 10-year-old boy who suffered significant burns on his body. (Personal Injury / Substandard housing)

$1+million

for top female administrators who were denied merited promotions (Gender Discrimination, Retaliation);

$3+ million

for anesthesiologists who were retaliated against for making complaints related to health and safety (co-counsel, Leiann Laiks, Fusion Law Group).
Prior to becoming an attorney, Jessica worked with various non-profit organizations and agencies of the United Nations in the attainment of human rights.
Jessica's Direct Dial Phone is (415) 418-2459 and her e-mail is jessica@stoll-law.com
 Admissions
Education
Memberships & Volunteer Work
Recognition
Employment Law Resources
Equal Employment Opportunity Commission 

– Federal agency for making complaints about discrimination based on  race, national origin, gender, sex, disability, religion.

Department of Fair Employment and Housing 

– State agency for making complaints of discrimination, harassment, and retaliation based on race, national origin, ancestry, color, language, gender / gender identity / gender expression, sexual orientation, disability of medication condition,  pregnancy, religion, family status, veteran status. 

San Francisco Office of Labor Standards Enforcement

– Information about local employment ordinances related to minimum wages, paid sick leave, lactation, health care, etc.
Speaking Engagements
Bridgeport, Opening Statements.

Entrepreneur Law Talk, "Entering and Exiting A Startup With a Stellar Contract", NextSpace San Francisco, July 2016

Bridgeport, "Effective Depositions", March 2015

Bridgeport, "Litigating Discrimination and Harassment Claims", December 2014

San Francisco Trial Lawyers Association, "Social Media in the Employment Law Context", May 2014

Attorney Action Club SF, "The 10 Most Common Employment Law Mistakes Made by Startups", May 2014
Legal Articles
"Understanding And Negotiating Employment Severance Agreements"