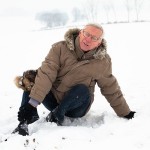 From slips and falls on slick surfaces to drowning or dog bites, California's premises liability law exists to hold property owners responsible for injuries caused by unsafe conditions on their property. The San Francisco attorneys at Albert G. Stoll, Jr. | A Law Corporation represent individuals injured due to premises liability matters to compensate them for the injuries they have suffered and to ensure that unsafe conditions are remedied and further accidents prevented.
People and businesses, particularly businesses that are open to the public, are required to maintain their premises in a reasonably safe condition. This includes inspecting the property periodically and either repairing known dangers or providing adequate warnings of any danger. If an unsafe condition exists, and the property owner knew or should have known of the condition yet either did not remedy the situation or provide adequate warning, then the property owner is liable for the injuries caused by someone encountering the unsafe condition. Generally, the only time a duty to warn does not exist is when the danger is open and obvious.  A common liability situation in San Francisco is when tree roots push up sidewalks and cause a tripping hazard.  Notice on the property owner is easy to prove in tree root cases, because it takes years for this type of hazard to develop.  A reasonable property owner and or the City and County of San Francisco needs to make their property save before the sidewalk becomes a tripping hazard to the public.
Spills and obstructions on stairs, malfunctioning elevators and escalators, and collapsing decks all have the ability to cause catastrophic injury to unsuspecting patrons. However, cases of premises liability are notoriously difficult to prove. For certain unsafe conditions, such as spills, the task of establishing how long the condition was present, and whether the property owner should have known about it before the injury occurred, can be daunting, and may require expert witness testimony and a full investigation of the site of the injury.
Our experienced trial lawyers understand the challenges inherent in premises liability cases and are familiar with the strategies which are most likely to prove successful. If you have been seriously injured on the premises of another due to the existence of a dangerous condition, contact Albert G. Stoll, A Law Corporation to hold the property owner accountable and seek compensation for your injuries.